English version:
"How can you be active all day outside at these very low temperatures without freezing?" some of our friends were asking. "What about sweating during cycling without being cold afterwards?" Well, indeed it is a challenge to combine sportive activities at very low temperatures with adventure in nature and wilderness. Being exposed to the winter weather all day without a warm room in the evening, being completely self-contained without external support, that is the challenge we took up when we planned our Winter Mountainbike Expedition on Lake Baikal. Our plan was to start at the northern end and then cycle all the way down to the southern tip of the worlds deepest and oldest sweet water lake. It will be ice and snow, the beauty of the lake and the two of us on our bikes, nothing more.

Lake Baikal is quite far away from our home in Germany, so we already needed five days on the Transsiberian-Baikal-Amur train to reach the starting point of our cycling tour in Severobaikalsk. As we left the nicely heated train wagon to the minus 25 degrees cold January day, it indeed was a bit of a shock for us, and it needed two days to adapt a bit. From then on, our daily rhythm was defined by outside temperature, the day length and the total time period of five weeks we had available to finish our tour to the South tip of the lake.

So, on 31st of January, in wonderful cold winter weather we cycled to Nishneangarsk to start our trip at the northern point of the lake. However, already on the next day we experienced the diversity of Siberian Winter with dark snow clouds and snow flurry. It was hard to see the car tracks heading south to Baikalskoje in this conditions, and in general cycling on snow was very wearing. It became clear that weather, wind, snow and ice conditions were the dominating factors and we would have to adapt our schedule to these conditions.

Another challenge we faced each day was the task of finding a suitable spot for pitching our tent at night. Our first night on the lake was rather unpleasant as we were constantly wakened by the cracking and snapping sounds of the ice beneath us. Sometimes it reminded us of thunders and earthquakes which moved through the ice below us. Although the lake is frozen with a thick layer of ice, some sections of the ice are in constant movement. Especially during low night temperatures, cracks appear and move and one never knows how far away from the tent new cracks will open. So we quickly learned where to find "quiet" zones on the ice or we simply pitched our tent on the shore of the lake. A good night's rest was vital for us, as we were active basically from sunrise to sunset every day.

The route we followed took us from Nishneangarsk to Baikalskoje and further south to Kotelnikovskij. From there we crossed the lake to the East coast to then follow the car track south via Davsha and Kurbulik to Ust Bargusin. This section of our tour was the hardest in terms of snow cover, on some days we had to push our bikes for many hours and kilometers through deep snow.

Our daily mileage varied from 25 kilometers to 55 kilometers depending on ice and snow conditions. Best cycling conditions we found south of Ust Bargusin and near Olchon Island, where there was almost no snow cover on the lake and we were able to cycle on blank ice in any direction. For that, our bikes were equipped with studded tires, which gave us good grip even on blank ice surfaces. These days with riding on the blank ice were pure joy and gave us a great feeling of freedom.

After stocking up with food and fuel in Ust Bargusin we again crossed the lake towards Olchon Island. For this distance of about 150 kilometers we needed a bit more than two days on very good ice conditions. Only three major cracks stopped our riding speed, but it was easy to push the bikes over. As we approached Olchon Island, two fishermen approached us with their car, asking where we were cycling from. They almost did not believe we were cycling over from Ust Bargusin… We were again judged with similarly astonishing looks as we entered the guest house in Chushir, where we again stocked up on food and fuel.





In general, our diet was very good and diverse. We started the day with a big portion of cereals cooked up with milk powder and dried fruit. In the morning we melted ice to fill our two large thermos bottles which would supply us with hot water and tea during the day. After every two hours cycling we had a small break in which we had some energy drinks, energy bars, a selection of nuts or some ham. Of course we had to thaw our food in our pockets in advance, as everything was frozen hard at temperatures way below that of a home freezer. The main task during the evening then was to again melt enough ice to cook a dinner meal of rice, pasta, mashed potatoes, buckwheat or couscous enriched with dehydrated vegetables and meat. A bar of chocolate serve as dessert, and tea or hot chocolate was for drinking.

From Chushir we again cycled to the North Cape of Olchon Island and then followed the lonely East coast. This part of the trip was particularly impressive. We enjoyed the remote shore landscape and the almost blank ice conditions for cycling. On this section we did not meet any other humans, but saw many tracks of wolves. We then continued on along the West coast of Lake Baikal towards Listvianka. Again this section was very diverse and attractive with its steep cliffs and ice-covered rocks. From Bolshoje Goloustnoje on we sometimes met other people on the lake, such locals with their cars, and some other tourists who were hiking on the ice. In these cases, we were then seen as an attraction for them…
From Port Baikal on towards Kultuk we suddenly again were fighting with deep snow conditions and strong headwinds. It seemed, the lake would not allow us to finish… However, then at midday on March 2nd we reached Kultuk after 27 days of cycling and covering a distance of 1075 kilometers on the ice of Lake Baikal. Temperatures in the beginning were around minus 40 degrees at night and minus 20 during the day. As we headed towards the south end of Lake Baikal, temperatures increased to minus 5 degrees during day. It seemed that spring time was coming with the beginning of March. Soon we were sweating in our warm winter clothing, the winter boots seemed too warm and we took off a layer of gloves.

As we reached Kultuk our biggest challenge then was cycling to Irkutsk on the road M55, which is a major inter-city road in East Siberia. Big thanks goes to all the truck drivers who were very considerate with us when overtaking on the steep inclines and in the narrow curves. After two days on a road with very hilly terrain, we finally reached the city of Irkutsk where we now spend a few days for resting before we will again take the train to Moscow and back home to Germany.
Although being physically strenuous, we enjoyed the beauty of Lake Baikal and the harsh conditions of Siberian winter. We met friendly and helpful locals who made our tour a special and pleasant memory. For sure we will come back to Russia and Siberia again some day.

Some photos, videos and text reports about this winter cycling expedition on Lake Baikal will be published on our website within the next weeks:
http://www.mountainbike-expedition-team.de
Ein erster Eindruck: http://www.youtube.com/watch?v=e8SOiq1VxMc






Mountainbike-Winter-Expedition auf dem Baikalsee

Februar / März 2011

'Sport im Winter bei extremen Minusgraden? Das geht doch nicht', sagen uns einige Freunde. 'Da hätte man doch das Problem, dass man die produzierte Hitze und den Schweiß nicht los wird und dann unweigerlich auskühlt'. Sport mit Abenteuer zu verbinden ist dann noch ein Schritt weiter. Sport in der Natur und Wildniss, ohne am Abend ein warmes Zimmer oder gar eine heiße Dusche, ohne Hilfe von außen, auf sich selbst angewiesen - das ist dann die richtige Herausforderung. Diese haben wir uns herausgesucht und angenommen: eine Wintertour mit den Mountainbikes von der Nord- bis zur Südspitze des Baikalsees zu fahren - auf dem Eis und Schnee. Nur wir zwei.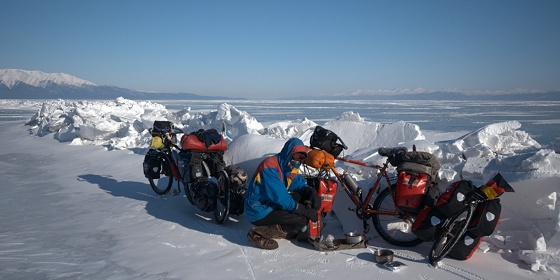 Von Deutschland aus ist der Baikalsee sehr weit weg und wir brauchten fünf Tage Anreise, bis wir in Severobaikalsk aus der Bahn steigen konnten. Aus dem beheizten Zugwaggon in die minus 25 grad kalte Winterluft, das war die erste Umstellung für uns. Die zweite war der tägliche Rhythmus, der uns von der Temperatur, der Tageslänge und unseren begrenzten Urlaubstagen auferlegt wurde. Unser Plan war es, von Nischneangarsk nach Kultuk auf dem zugefrorenen Baikalsee innerhalb von 5 Wochen zu fahren. Start der Mountainbike Expedition war am 31.1. bei schönstem sonnigen und kalten Winterwetter. Aber schon am Abend des 1.2. kam ein heftiges Schneetreiben auf und wir fanden die Fahrzeugspuren auf dem Eis in Richtung Baikalskoje kaum noch. So bekamen wir gleich vom Wetter gezeigt, wer sich nach wem zu richten hat. Die Kälte störte uns dabei kaum, da wir gute Ausrüstung und gute Erfahrungen von anderen Kältetouren hatten. Nur der Wind und der tiefe Schnee ärgerte uns. Aber wir kamen voran, und das war die Hauptsache. Die nächste Frage für uns war es, jeden Abend einen geeigneten Zeltplatz zu finden. Auch hier lernten wir aber schnell dazu, uns nach den Bedingungen auf dem Eis zu richten. So bekamen wir bald schon ein Gefühl dafür, wo das Eis in der Nacht ruhig unter uns ist oder wo es zu lauten Knalls und Donnern im Eis kommen wird. In der Nacht nicht schlafen zu können, weil es unter den Isomatten permanent rumpelt, donnert und zuckt, wo es zu regelrechten Gewittern und Erdbeben kommt, ist psychisch stark aufreibend. Schliesslich weiss man ja nicht, wie nah der gerade entstandene Riss oder die Eisaufwerfung stattfand. Der See ist zwar in der Regel dick zugefroren, aber besonders in der Nacht bei den tiefen Temperaturen arbeitet das permanent unter Spannung stehende Eis. Nach unserer diesbezüglich sehr abenteuerlichen ersten Nacht auf dem See suchten wir uns zukünftig eine ruhige große Eisplatte, oder verbrachten die Nacht gar am Ufer. Eine gute nächtliche Erholung brauchten wir, da wir doch jeden Tag von Sonnenaufgang bis Sonnenuntergang unterwegs waren und dabei etwa 5 Stunden aktiv auf den Fahrrädern waren.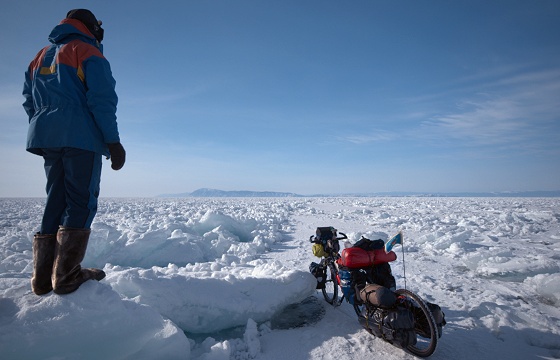 Dabei legten wir zwischen 25 und 50 km zurück - je nachdem, wie die Eis- oder Schneequalität war. Oft halfen uns die küstennahen Autospuren auf dem See, um gut und schnell voranzukommen. Oft gab es auch weite Flächen mit dunklem Blankeis, wo wir frei und "querfeldein" unsere Richtung einschlagen konnten. Von Baikalskoje fuhren wir weiter an der Westküste nach Kotelnikovskij. Dann überquerten wir den See und fuhren an der Ostküste nach Süden. So kamen wir an den kleinen Siedlungen Dawscha und Kurbulik vorbei, ehe wir die Ortschaft Ust-Bargusin erreichten. Auf dieser Strecke hatten wir den meisten Schnee auf der Piste und mußten an manchen Tagen einige Kilometer und einige Stunden schieben. In Ust-Bargusin konnten wir neuen Proviant einkaufen und fuhren dann gerade über den See an die Nordspitze der Insel Olchon. Für diese 150 km lange Überquerung benötigten wir etwas mehr als 2 Tage. Mitten auf dem See trafen wir zwei Fischer, die mit ihrem Auto zu uns fuhren, um nachzusehen, was denn da aus dem Nichts plötzlich in Richtung Olchon fuhr. Sie konnten es nicht glauben, dass wir schon seit über 2 Wochen auf dem Eis unterwegs sind. Ebenso erwartete uns ungläubiges Staunen, als wir in Chuschir bei einem Gästehaus mit den beiden Mountainbikes vorfuhren und dort einen Ruhetag einlegten. Hier ergänzten wir wieder unseren Proviant und unseren Benzinvorrat für den Kocher. Unser Speiseplan war kalorienreich, abwechslungsreich und schmackhaft. Zum Frühstück gab es eine große Portion Müsli mit Trockenfrüchten, Vollmilchpulver und Zucker. Am Morgen wurden die beiden großen Thermoskannen befüllt, die wir wärend des Tages bei unseren Pausen entleerten. Während des Tages gab es alle 2 Stunden eine Pause, wo wir einen süßen Energiebrei, Nüsse, Energieriegel, süßen Tee und Schinken aßen. Natürlich mußten die Lebensmittel rechtzeitig vorher in der Innentasche der Jacke "aufgetaut" werden, da ja bei Außentemperaturen weit tiefer als in einer Tiefkühltruhe alles hart gefroren ist. Am Abend kochten wir wieder mit dem Benzinbrenner. Es gab wahlweise Nudeln, Reis, Couscous, Buchweizen oder Kartoffelpüree mit Trockengemüse und Sahnesauce. Oft wurde das Abendmenü noch mit einer heißen Schokomilch mit Zimt und Zucker ergänzt.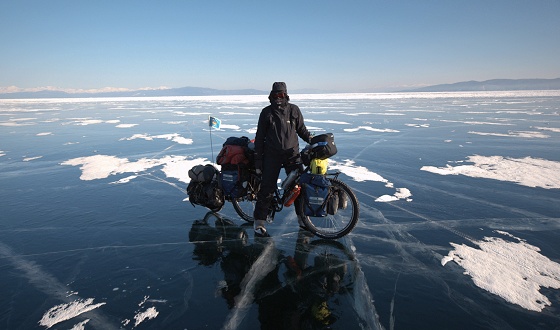 Von Chuschir aus fuhren wir wieder zurück an die Nordküste von Olchon, um dann an der Ostseite der Insel nach Süden zu kommen. Der gesamten Westküste des Baikalsees blieben wir dann treu bis nach Listvianka, Port Baikal und Kultuk. Besonders die Küstenlandschaft der Ostseite von Olchon hatte uns sehr gut gefallen. Wir trafen keine Menschen, dafür Wölfe, es gab viele grandiose Felswände und es gab gutes Eis zum Fahren. Manchmal konnte man sogar die Steine des Seebodens durch das klare Eis sehen. Aber auch die Strecke zwischen Olchon und Bolschoje Goloustnoje hatte uns wegen der schönen abwechslungsreichen Küste gefallen. Ab Bolschoje Goloustnoje trafen wir auch andere Touristen auf dem Eis, entweder Russen per Auto oder Europäer mit dem Rucksack. Oft waren wir dann die Attraktion und wurden fotografiert oder gefilmt.

Ab Port Baikal hatten wir für etwa 20 km in tiefem Schnee, auf dem wir nur sehr langsam vorankamen. Dann wurde die Piste besser, der Schnee fester und wir konnten wieder mit den höheren Gängen fahren. Als wir am 2. März in Kultuk ankamen, hatten wir in 27 Radeltagen 1050 km auf dem Eis zurückgelegt. Waren die Temperaturen am Anfang der Expedition noch bei minus 40 grad in der Nacht und minus 20 grad am Tag gelegen, so wurde es uns immer wärmer, je weiter wir nach Süden kamen. Pünktlich zum 1. März kam der Frühling mit minus 5 grad und wir schwitzten mit unserer Winterbekleidung. Daran mußten wir uns nun wieder gewöhnen. Drei Paar Socken waren jetzt zu viel, die Thermo-Unterwäsche war jetzt nicht mehr nötig und die Robbenfellstiefel wurden zu Backöfen. Auch an den Straßenverkehr mußten wir uns notgedrungen gewöhnen, wollten wir doch die Strasse M55 von Kultuk nach Irkutsk selbst mit den Fahrrädern zurücklegen. Einen Dank an die vielen LKW-Fahrer, die sehr rücksichtsvoll überholten, auch an den vielen steilen Steigungen. Die Minibus-Fahrer koennen da allerdings noch dazulernen. In Irkutsk kamen wir bei heftigem Schneegestöber an - so starken Schneefall hatten wir auf dem See an keinem der Tage. Irkutsk ist für uns auch ein Ort, an dem wir uns etwas erholen können, einige russische Spezialitäten genießen können, die schöne Innenstadt besuchen und unsere Ausrüstung für die viertägige Zugfahrt vorbereiten können. Mit der Bahn geht es dann nach Moskau und per Flugzeug weiter nach Berlin. Nach 7 Wochen ist dann unser diesjähriger Urlaub beendet. Andere verbringen ihren Jahresurlaub am Sandstand in der Sonne oder im eigenen Garten. Dazu sind wir nicht in der Lage - wir müssen uns bewegen, brauchen Sport und viel Natur für unseren Urlaub. Uns hatte die Tour auf dem Baikal besonders wegen grandiosen Natur, der stillen Winterlandschaft und der freundlichen Menschen gefallen. Es war nicht das erste mal, dass wir in Sibirien und Russland Urlaub machten, es wird auch nicht das letzte mal gewesen sein.

Wer mehr Informationen zu dieser Winter-Expedition auf dem Baikal sehen und lesen (in deutsch und englisch) möchte, der schaue demnächst mal auf unserer Internetseite vorbei, die in den nächten Wochen mit Fotos, Videos und Tagebuchauszügen dieser Tour gefüttert wird.

http://www.mountainbike-expedition-team.de
http://www.mountainbike-expedition-team.de/baikal/baikal.html



by Andreas von Heßberg and Waltraud Schulze

Cycling Lake Baikal (Part 1)





Cycling Lake Baikal (Part 1)